ASHBURTON completes drilling PROGRAM AT dEEP CREEK, nevada
January 5th, 2012 VANCOUVER, B.C. – ASHBURTON VENTURES INC. (ABR-TSX:V) (ARB-FRANKFURT) ("Ashburton" or the "Company") is pleased to report that drilling at its Deep Creek Project is complete and all assays have been received. Thirty-two holes were drilled in the 2011 program, for a total of 3,163.6 meters (11,855.5 feet). Drill intercepts of greater than one gram per tonne gold (g/t Au) were encountered in seven drill holes, confirming the presence of a second vein east of the Upper Vein, and the northern extension of the Upper Vein at depth. In the Waterfall–Range Front Area, drilling targeted a broad zone of structural disturbance for potential disseminated gold mineralization and intersected 73.7m of 0.46 g/t Au, 68.7m of 0.21 g/t Au, and 47.6m of 0.25 g/t Au. A table listing the drill hole orientations is provided below, and a plan map showing locations can be found Here. www.ashburtonventures.com .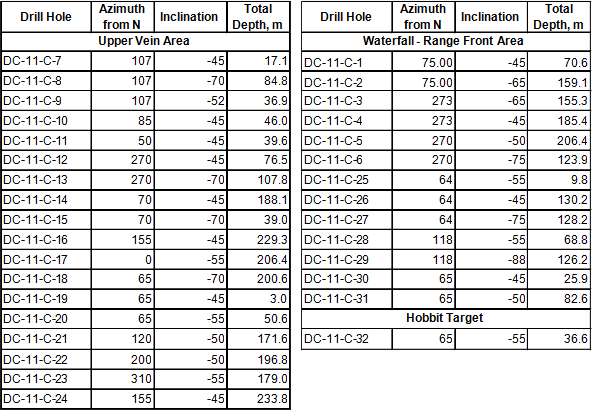 A major focus of the 2011 drilling program was the Upper Vein area, where outcrop surface grab samples had gold values >1 g/t, and float samples east of the Upper Vein indicated a potential second vein (see news release, January 20th, 2011). One meter of continuous veining and two meters of stockwork veining were exposed during pad preparation at the Upper Vein, providing a clearer picture of the vein such that holes could be positioned to determine its strike length and extent at depth. Of eleven holes drilled in the area, four intersected >1 g/t Au over intervals >1m in length. Hole DC-11-C-10 intersected 1.69 g/t Au at 22.9m, including a 30cm quartz vein with 4.47 g/t Au. Hole DC-11-C-13 intersected 6.94 g/t Au at 99.4m in a siliceous breccia with quartz veining. The extension of the Upper Vein along strike to the north was confirmed by DC-11-C-17, with two quartz veined intervals >1 g/t at 107.9m and 145.7m. The remaining holes positioned along the southern strike of the Upper Vein and in a saddle area between the Upper Vein and Waterfall area returned assays mostly less than 0.10 g/t Au. Significant widths of quartz veining or stockwork like that observed in the surface exposure were not encountered in drilling. The drill data suggest that the Upper Vein now exposed on surface initially formed in or near the axis of a fold, allowing a greater vein width to develop due to structural weakness as gold-bearing solutions migrated through the McCoy limestones.
Drilling in the Waterfall–Range Front area targeted a broad zone of structural disturbance identified as a potential disseminated gold deposit based on structural analysis (see news release January 18th, 2011). Holes DC-11-C-5 and DC-11-C-6 were drilled from the same collar westward into the Waterfall–Range Front area, and DC-11-C-28 was collared 1400m due north of these holes and drilled eastward into the Range Front structure. Significant intervals of anomalous gold were intersected in DC-11-C-5 with 73.7m of 0.46 g/t Au, DC-11-C-28 with 68.7m of 0.21 g/t Au, and DC-11-C-6 with 47.6m of 0.25 g/t Au. Disseminated mineralization in the Waterfall–Range Front area is associated with variably silicified limestones of the McCoy Group. Higher gold values are associated with highly brecciated zones in the silicified limestones, such as in DC-11-C-5, with two 1.2m intervals of 9.74 and 14.10 g/t Au, respectively. Holes DC-11-C-25, -26, and -27, positioned 700m south of DC-11-C-28 and drilled to test for mineralization east of the Range Front Structure returned assays mostly <0.02 g/t Au. Holes DC-11-C-30 and -31, positioned 400 m north of DC-11-C-28 returned assays of <0.20 for intervals >2.4m in length.
Drilling of the Hobbit target, located two kilometers south of the Waterfall–Range Front area was also initiated to test argillically-altered outcrops east of a resistivity anomaly that were drill-tested in 1986 by Kennecott Exploration (see news release October 20th, 2011). Thirty-seven meters (120 feet) of drilling were completed before drilling was halted due to technical problems. No assays >1 g/t were encountered over the 37-meter interval, although elevated gold values occurred throughout the hole with higher values nearer to the bottom.
Drilling highlights for the 2011 program are summarized in the table below.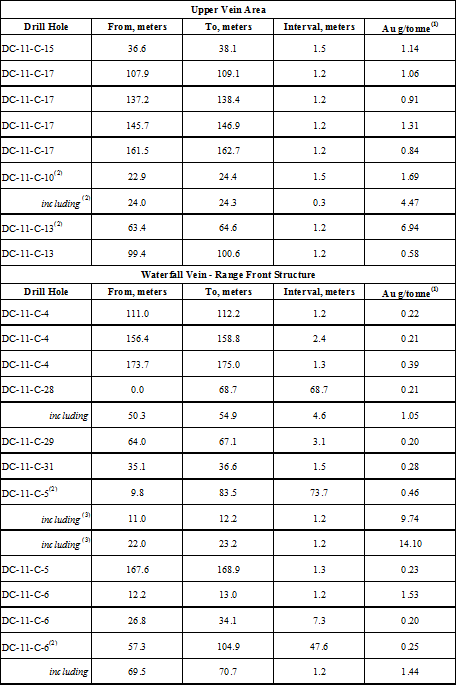 Core recovery for the 2011 drill program was visually estimated at better than 95%. The core was split in half using saws located on site in Nevada and at a facility located in Pleasant Grove, Utah, with one half submitted for treatment at the ALS Chemex Laboratories in Elko, Nevada, and North Vancouver, British Columbia. Gold assays were conducted using the Au-AA24 protocol (0.005-10 part per million gold detection range), with overlimit values re-assayed using the Au-GRA22 protocol (0.05-1,000 part per million gold detection range). Certified standards were included in the sample stream along with the core and returned acceptable values. Selected samples re-analyzed by the metallic screening process (Au-SCR24) indicate a possible 'nugget effect' that will be investigated with any material changes in the results to be reported in future updates.
Concurrent with the 2011 drilling program, follow-up mapping and sampling was also conducted over several historic rock and soil anomalies on the property. Results of the 2011 drilling, as well as historic data in the Company's possession, will be further assessed to identify additional areas for drilling in 2012.
Ashburton currently owns a 100% interest in the Deep Creek property, with the 2011 program supported in part through a private placement from Premier Gold Mines (PG-TSX) (see news release December 9, 2010).
The technical contents of this release were approved by Dr. Tom McCandless, P.Geo., Vice President, Exploration for Ashburton and a qualified person as defined by National Instrument 43-101.
Ashburton Ventures is a junior exploration company actively seeking mineral opportunities for the benefit of all its stakeholders.
ON BEHALF OF THE BOARD
Michael England, President
For further information contact:
Telephone: (604) 683-3995

Forward-Looking Statement:
Some statements in this news release contain forward-looking information that involves inherent risk and uncertainty affecting the business of Ashburton Ventures Inc. Actual results may differ materially from those currently anticipated in such statements. Neither the TSX Venture Exchange nor its Regulation Services Provider (as that term is defined in the policies of the TSX Venture Exchange) accepts responsibility for the adequacy or accuracy of this release.