Join Our Mailing List
Subscribe to receive Ashburton's latest news & updates:
An error has occurred.
Please check your inbox to confirm your subscription.
Email already subscribed or invalid.
The Area 51 Lithium Brine prospect, located in Nye County, Nevada, consists of 85 Federal Placer Claims covering 1,700 acres covering the western portion of the Mud Lake playa adjoining the Nellis Air Force Bombing Range.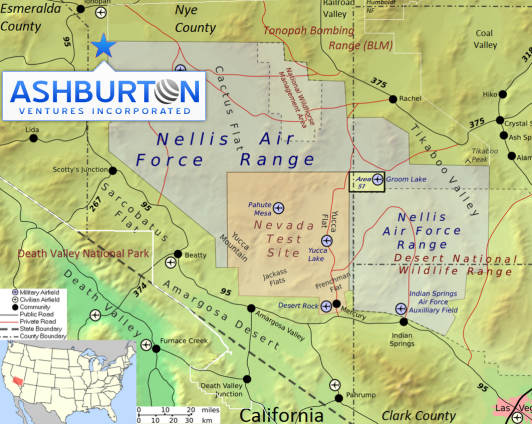 Mud Lake is the largest playa within 50 km of Clayton Valley and is bordered by the same favorable Middle Tertiary felsic volcanic rocks considered to be the source of lithium at Clayton Valley. The Area 51 Property claims are adjacent to the hills bounding the playa to the west and cover the likely location of subsurface range bounding faults which control the location of brines at Clayton Valley. The claims abut the Nellis Air Force Range to the east which is closed to staking. It is thus possible the claims may cover subsurface drainage in west-dipping strata from a much larger area than the claim footprint.
Surface sampling of unconsolidated playa sediment by the vendor returned analyses of 77 ppm to 83 ppm Li from 4 samples collected. The sediment samples collected by the vendor were analyzed by ALS Minerals in Reno NV. Samples were screened to -180um and the fine fraction analyzed by ICP-MS for 53 elements including lithium.