Join Our Mailing List
Subscribe to receive Ashburton's latest news & updates:
An error has occurred.
Please check your inbox to confirm your subscription.
Email already subscribed or invalid.
Location & Geology
The Elon claims consist of 12 parcels of land directly bordering Pure Energy's Clayton Valley Deposit, located in the Clayton Valley lithium district of Nevada.
Geochemical Sampling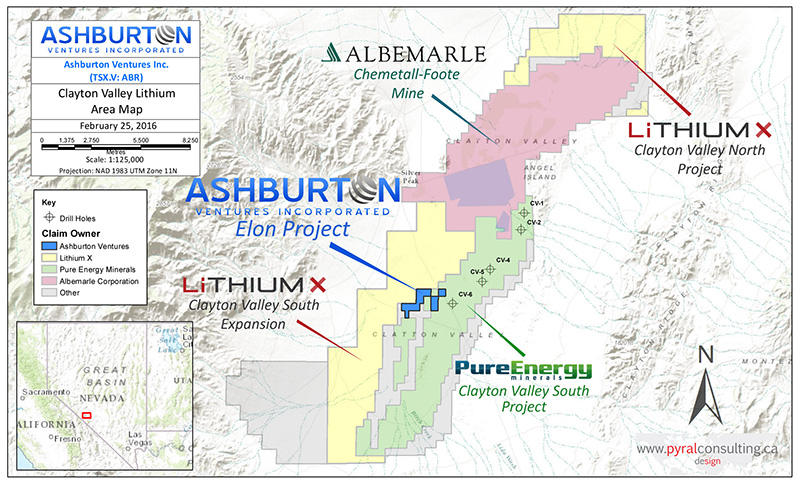 A Q1 2016 work program consisted of surface sediment sampling from various locations across the property, with 11 samples submitted for analysis. The samples were crushed, split, a portion was pulverized and a one (1) gram aliquot analyzed by ALS Chemex method ME-MS61 (48 element, including lithium, four acid ICP-MS). Results were as follows:
| | | | | |
| --- | --- | --- | --- | --- |
| Number | Type | Depth (m) | Recvd Wt. (kg) | Li (ppm)* |
| K952825 | soil | 2.1 | 0.76 | 113.5 |
| K952826 | soil | 3 | 0.83 | 126 |
| K952827 | Soil | 3 | 0.84 | 104 |
| K952828 | Soil | 3 | 0.75 | 140.5 |
| K952829 | Soil | 3 | 0.87 | 146.5 |
| K952830 | Soil | 3 | 0.61 | 111 |
| K952831 | Soil | 3 | 0.72 | 107.5 |
| K952832 | Soil | 2.8 | 0.91 | 124.5 |
| K952833 | Soil | 3 | 0.83 | 118 |
| K952834 | Soil | 3 | 0.89 | 117 |
| K952835 | Soil | 3 | 1 | 134 |